Last Christmas* we did in fact not make an Invertebrate Advent Calendar, as half the people of the collections were off in South Africa attending the IBOL (International Barcode of Life) conference. You can read more about what we were up to there in this blog post (which is liberally peppered with photos of local vertebrates): The 7th International Barcode of Life (IBOL) conference
However, the year before, and the year before that again, we did hold our own countdown for the 24 first days of December – just like most kids do here in Norway.
We will try to do the same this year, so make sure to check back often for posts on the weird and wonderful critters that live in the sea!
The 2015 edition can be found here, and cover the following topics:
Door #1: A day at sea
Door #2: The Leaf Sheep Sea Slug
Door #3: Prepare to be HYPNOtized
Door #4: A cushioned star
Door #5: A (so far) undescribed species of bristle worm
Door #6: Associated Amphipods
Door #7: Shrimp and salad
Door #8: One jar –> many, many vials
Door #9: Delving into the DNA
Door #10: Old Stoneface
Door #11: Just a white blob?
Door #12: Plankton sampling with a vertebrate view!
Door #13: Time for rejuvenation
Door #14: A world of colour and slime
Door #15: Guest researchers: Ivan
Door #16: First molecular-based phylogeny of onuphid bristle worms
Door #17: A marriage of art and science
Door #18: A photosynthetic animal
Door #19: The amphipods with the pointed hoods
Door #20: How many undescribed bristle worms live in Australian waters?
Door #21: A Norwegian oddity
Door #22: The Heart of the Museum
Door #23: Of MAREANO and the Museum
Door #24: Happy Holidays!
For 2016, this is what we came up with: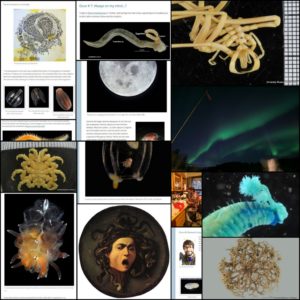 Door #1 Gammarus wilkitzkii – closer than Santa to the North Pole?
Door #2: The head of the Medusa
Door #3: a week in the field
Door #4: A spindly Sunday
Door #5: A visit from Mario
Door # 6: Stuffed Syllid
Door # 7: Always on my mind…?
Door #8: the ups and downs of a marine werewolf?
Door #9: Research stay of Juan Moles
Door #10: Siphonophores
Door #11 Invertebrately inspired art?
Door #12: All aboard the jelly cruise!
Door #13: Lucia – with a ray of enlightenment?
Door #14: Where the sun doesn't shine. Lucifer, luciferin and luciferase
Door #15 Twinkle, twinkle, little animal?
Door #16: Chaetoderma nitidulum- a spiny, shiny mollusc
Door #17: New master student
Door # 18: MSc completed
Door #19: Going back to the roots
Door #20: Pretty Phyllodocidae
Door # 21: A tale of three fading buck-goats
Door #22 A jolly, happy family?
Door #23: How far away can a quill worm get?
Door #24: Happy Holidays!
We hope you will enjoy our little tidbits of invertebrate collections related information!
-Katrine