I've spent both last week and the current one at the UiB field station – Espegrend – together with an enthusiastic bunch of marine biology master students and their teachers.
I am mainly here to collect animals for NorBOL, but it's hard to resist the temptation to join in on the course itself every now and again – whether in the field or in the lab!
The baseline for the course is that the students will get to look at all sorts of freshly collected animals from various habitats and learn to identify them.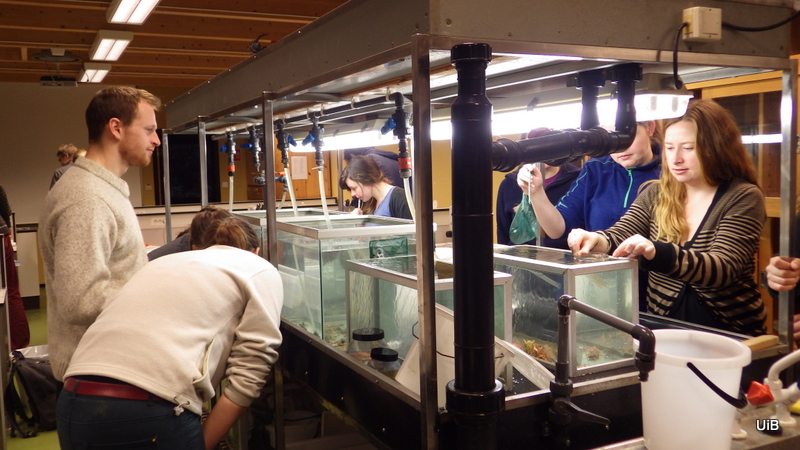 Whilst doing so, they acquaint themselves with the different keys and terminology used to identify the critters, learn which species are associated with which habitats, and get practical experience of how to collect and treat samples of various kind (you would for example use a different kind of gear to collect on a muddy substrate than on a rocky slope).
So it is a busy couple of weeks, with lots to learn.
Tomorrow is the final day of collecting (it will be "parasite day", which means a trawl to collect fish and various other animals likely to have parasites on (or in!) them.
Today we have focused on sponges, yesterday it was zooplankton, Monday was polychaetes – and so it goes!
Here are some of the animals that we have been working on:
The weather last week was…interesting, as was the absolute downpour a student and I went out in Monday morning – but today was simply a beautiful day for field work!
As well as (re)presenting the Museum (yes, we do other things than the exhibitions, and ye-ees, we are interested in new students!), I gave a presentation of NorBOL and the work we are doing on marine animals last week (so far it is only animals, we will start with the marine macro algae the coming spring).  I have been collecting quite a few new species that are to be barcoded from what the students work on, as well as supplementing what we have. In addition I will bring back some nice (but so far unidentified) samples to the Museum that we will continue to work on.
And who knows – maybe I have recruited some future collaborators?