We are very fortunate in that we have a modern DNA lab available «just down the street» from us, as the University Museum is part of the shared Biodiversity laboratories (BDL) structure.
The BDL is a formalized cooperation between three research groups at Dept. of Biology (Marine biodiversity, Geomicrobiology and the EECRG), and two of the research groups at the University Museum. One of the senior engineers if this lab is a Museum employee, and from time to time we are also able to hire in other collaborators for specific projects.
For the past couple of months we've had a technician – Morten – working on resolving some of the challenges that we run into when we work on COI barcoding of marine invertebrates.
Unlike many of the other groups that this method works exceedingly well for (like the Diptera), we are experiencing difficulties in obtaining DNA barcodes from a significant proportion of our samples.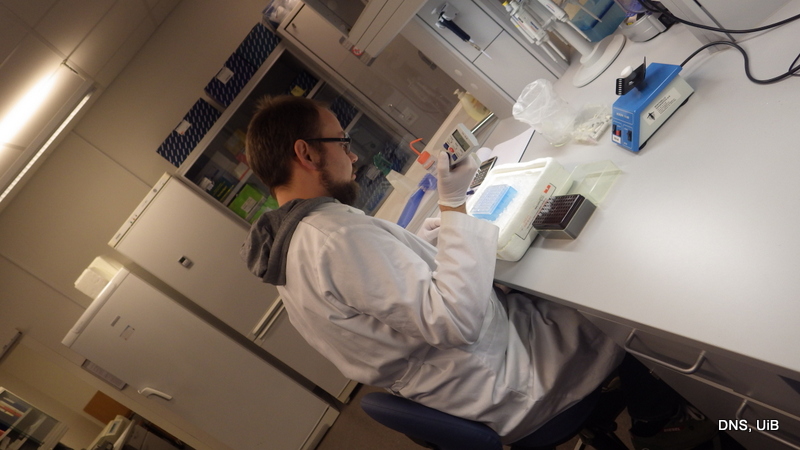 We are currently focussing particularly on the Polychaeta (bristle worms), as this is the group we have submitted the majority of samples from in both our major barcoding projects: MIWA (Marine Invertebrates of Western Africa) and NorBOL (Norwegian Barcode of Life).
Morten has been working on obtaining DNA from the more problematic species, by troubleshooting and tinkering on various aspects of the ways we extract and amplify genes.
Basically there are more or less standardized ways of obtaining DNA, and these methods normally works well. Unfortunately (for various reasons) this is not always the case, and this is where we have to alter the protocols to see if we can find a way to retrieve the sample DNA from the specimens.
So far it looks quite promising; we've been able to fill in some of the most important "blanks" in our datasets – and we're not done yet!
– Morten & Katrine