It is a sad fact, but a fact nonetheless. Most biologists are not taxonomists. Even so – the work many biologists do is based on knowing the species studied, and knowing the correct name is part of that important knowledge.
But how do we know what names are valid, and what species have been formally described within a group? Taxonomic revisions tend to have name-changes as a result, and new species are described all the time – for amphipods an average of 140 species new to science are described yearly…
This is where databases will be your best friend! For marine species, the World Record of Marine Species, WoRMS, database is used widely, with more than 200 000 visits every month. Here you can find not only current accepted names, but also information about synonymised names, taxonomic literature, and for some species information about distribution, ecological traits and links to other resources. The data have all been checked and edited by a world-wide team of taxonomic and thematic editors – all responsible for their special groups of organisms.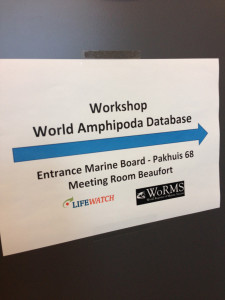 This week, 22 of the 34 taxonomic editors of the
World Amphipoda Database
, feeding WoRMS with all Amphipod-related information, gathered at the Flanders Marine Institute in Oostende, Belgium to learn about how to best edit the information about Amphipods. It was two days full of information about the database, but also of hands-on training and with the help of the nice people in the Data Management Team of WoRMS, we managed to get quite a lot of information added and edited on the database. Needless to say, with more than 9000 amphipod species accepted (and several of them with earlier names or alternate representations), we have not completely finished yet. The work on editing a database is continuous – and we have plans for adding more info for each species, including type-information, ecological information and links to identification keys.
The second best thing about going to workshops (the first being all the exciting new things we learn), is that we get to spend time with colleagues from far away. The people working on amphipods are in many ways my extended family – this is at least how it feels whenever we meet. News about both amphipods and life in general are exchanged, possible new projects are planned, and friendships continue to be reinforced over cups of coffee, early breakfasts and late dinners. And every time we leave each other, there is a hope that our next meeting might not be too far away.  My colleagues from Poland call this "the Amphipoda way of life"  – and this friendly, collaborate life is a good life to have as a researcher.
Anne Helene
---
Citations:
Horton, T.; Lowry, J.; De Broyer, C.; Bellan-Santini, D.; Coleman, C. O.; Daneliya, M.; Dauvin, J-C.; Fišer, C.; Gasca, R.; Grabowski, M.; Guerra-García, J. M.; Hendrycks, E.; Holsinger, J.; Hughes, L.; Jaume, D.; Jazdzewski, K.; Just, J.; Kamaltynov, R. M.; Kim, Y.-H.; King, R.; Krapp-Schickel, T.; LeCroy, S.; Lörz, A.-N.; Senna, A. R.; Serejo, C.; Sket, B.; Tandberg, A.H.; Thomas, J.; Thurston, M.; Vader, W.; Väinölä, R.; Vonk, R.; White, K.; Zeidler, W. (2016) World Amphipoda Database. Accessed at http://www.marinespecies.org/amphipoda on 2016-04-07
WoRMS-info on workshop: http://www.marinespecies.org/news.php?p=show&id=4531