The Research School in Biosystematics (ForBio) is an inter-institutional PhD-research school for students and postdocs from Norwegian, Swedish and Danish universities. Our courses are also open for participants from other countries or employed by non-academic institutions. ForBio is financed by the Research Council of Norway and by the Norwegian Taxonomy Initiative. For more info see: www.forbio.uio.no
Fifteen students, two teachers and one teaching assistant on an autumn adventure to study the marine fauna and flora of the West-coast of Greenland.
The journey to Disko Island (September 9-12, 2013)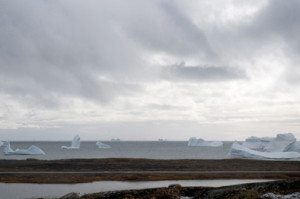 After an overnight stay in Copenhagen, we took a plane to Kangerlussuaq (Søndre Strømfjord) and then – after a pleasant walk in the sunshine exploring the surroundings of Kangerlussuaq airport – to Aasiaat (Egedesminde), South of Disko. Our planned two-days stay in Aasiaat (including whale watching trip and guided tour through the town and cultural history museum) had to be extended for one more night due to the weather conditions. Thanks to the nice people at Aasiaat Sømandshjem we didn't have to stay out in the cold. Some of us slept in the conference room – but everybody got a bed. The storm, however, faded away over night and we arrived safely at Qeqertarsuaq (Godhavn), where Ole Stecher – scientific director of the Arctic Station – waited for us to give us a warm welcome.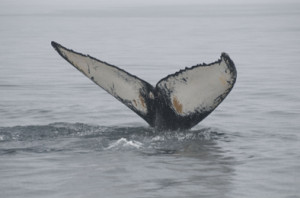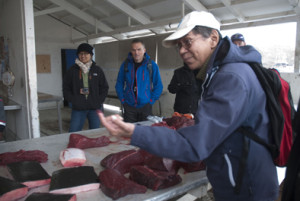 Humpback whale in Aasiaat.                                  Our guide let us try fresh, raw minke whale.
Arctic Station (September 12-27, 2013)
The Arctic Station just east of Qeqertarsuaq (Godhavn) was founded in 1906 and has functioned since as a base for scientific research and training, with a special focus on the Arctic environment. This was made possible by the initiative of the botanist Morten P. Porsild. Today, the Arctic Station is run by the University of Copenhagen. It is situated North of the polar circle in the rich nature of Disko Island.
For our marine biological course, we can make use of the station's research vessel Porsild and of a smaller motorboat to collect material to study in the laboratories of the Arctic Station. We have planned a number of collecting trips in the vicinity of the station and an overnight-trip to Disko Fjord. The station is our home for 16 days.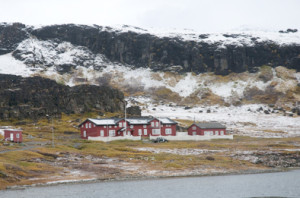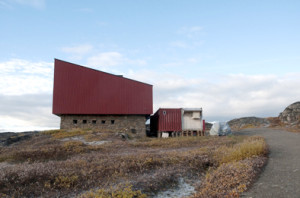 The Arctic Station with the lake in front                 The laboratory building
The following entries are written by the course participants. The group contains of two students from University of Bergen (Norway), five students from Gothenburg University and two from Stockholm University (Sweden), three students from Aarhus University and one postdoc from University of Copenhagen (Denmark), one student from Ludwig Maximilian University, Munich (Germany), a teaching assistant from Institute of Marine Research Tromsø (Norway), a teacher from Aarhus University and a teacher from University Museum of Bergen (Norway).
Entry by: Christiane Todt (ForBio, University Museum of Bergen), Anne Helene Tandberg (Institute of Marine Research, Tromsø), and Peter Funch (Aarhus University)