Woke up bright and early on day 6 of the ForBio Marine Course in Disko Island, Greenland to the beautiful sight of blue skies and the sun reflecting off the icebergs in the bay.  After a delicious breakfast the group divided up to tackle multiple tasks, which included activities such as sorting samples gathered on the Porsild trip, identifying multitudes of exciting species and a trip to an intertidal area outside the village.  After weaving our way past bands of fearsome sledge dogs aka 'wolves', the band of intertidal researchers arrived in a premium location for investigating life in the rocky pools, blue mussel communities and macroalgae. To observe macroalgae communities, a brave (and slightly crazy) Danish researcher (Mette Möller Nielsen) snorkeled around the coast in water with a temperature of around 3°C with icebergs as her companions.  As a safety precaution a rope was attached to her and held by a shore person, this technique was later dubbed as 'orca fishing' as she closely resembled a seal in her wetsuit, fortunately for her no orcas were sighted. The blue mussel expert present (Jakob Thyrring) was jubilant as the area had thousands of blue mussel specimens, which will be important for his research on understanding climatic changes in Greenland. Meanwhile, another enthusiastic researcher (Peter Kohnert) had discovered a 'gold-mine' of nudibranchs which will probably take the better part of the rest of the decade to identify…..but he was excited nonetheless. Once sampling had finished we enjoyed a slice of frozen bread with herring and a hot steamy cup of coffee in the sunshine whilst enjoying the beautiful views.
"Orca-fishing" with human bait…                            Sampling phytoplankton from the shore.
In the afternoon more identification of amazing arctic species ensued and terms such as chaetae, papillae, dactylus, subchela and rostrum were thrown around with abandon interrupted by the occasional cheer once someone had successfully identified one of the many cryptic species.  A small party attempted to catch some arctic fish species and phytoplankton at an amazing location dominated by large cliffs, icebergs, the occasional whale and beautiful tundra-like vegetation. Unfortunately the level of expertise in the fishing department was not quite up to scratch resulting in a catch of one piece of seaweed and little else, luckily we are here for at least another two weeks and can work on our techniques.  The phytoplankton scientists had more success, getting a large haul of the microscopic organisms.  Satisfied with our sampling success for the day we headed back to enjoy a delicious meal of local lamb and exciting presentations given by members of the team.
Till tomorrow,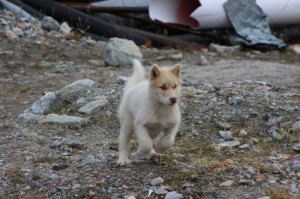 Jeroen Brijs (Gothenburg University) and Jakob Thyrring (Aarhus University)